Be rest assured when staying with 'SC-Saint Martin'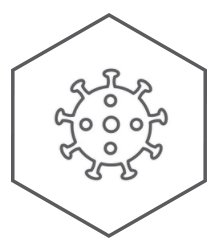 ---
Here at 'SC-Saint Martin' we completely understand everyone's worries in relation to Covid. May it be about the virus still being around or returning during the winter season, or most importantly the potential concern for you and your family's health, which at the end of the day is our highest priority!
We are confident that winter 2020/21 will still go ahead as usual.
But there may of course be new restrictions in place, such as having to wear a mask in gondolas and chairlifts, restricted après-ski and indoor restaurant activity.
Whilst this is mere conjecture, we are hoping more than anything that this upcoming season will take place as "normal" as possible.
We cannot influence any of the above. But what we can do is reassure you that we will be taking your safety, health and comfort as our number one priority!
As a result, the following changes will be implemented, in case Covid is still around this winter 2020/21.
---
Safety measures
MEET AND GREET
We will give you the option between our personal 'Meet & Greet' service or a 'Contact-less' check-in.
All our chalets are equipped with lock-boxes meaning you are able to let yourself into the accommodation without having to meet us in person.
Nevertheless we are available 24/7 if any questions or issues arise!
When meeting any of our guests, we will wear masks and respect all social distancing measures.

CLEANING
Extra precautions in relation to cleaning and disinfection methods will be put in place to ensure your safety.
Additional disinfecting hand-wash and spray will be provided in all of our chalets/apartments.
---
'Flexi Covid'
Book your holiday with confidence!
We are excited to introduce our flexible booking offer for winter 2020/21 holidays. This will give you the choice between either a refund of your booking costs or a change in holiday dates if …
… If the UK Foreign, Commonwealth and Development Office or the equivalent government body of your country of origin advise against travel (including non-essential travel) to your destination;

… If you are required to quarantine upon arrival at the resort destination (Saint-Martin-de-Belleville), due to the laws and regulations of the French government;

.. If you are required to quarantine upon return to your country of origin from the resort destination (Saint-Martin-de-Belleville), due to the laws and regulations of the relevant government;

… If the chalet you have booked with us or the 3-Vallees ski resort or Saint Martin de Belleville ski resort has been forced to close due the laws and regulations of the French Government, as well as any other local or public authority;

… If France has closed its borders or is otherwise denying entry to visitors;
The terms only apply as stated on your booking confirmation – You can find further info on: 'Flexi-Covid Booking Offer'
---
Covid resort measures
To be ready for every possibility, the ski resort of Saint-Martin-de-Belleville is putting in place a series of measures so that your holiday at the mountain is solely one of happiness and is an opportunity for you to recharge your batteries and have fun with your friends and family.
All measures are explained on the very helpful image by 'France Montagnes' below. These measures are going to be in place in all ski resorts in France.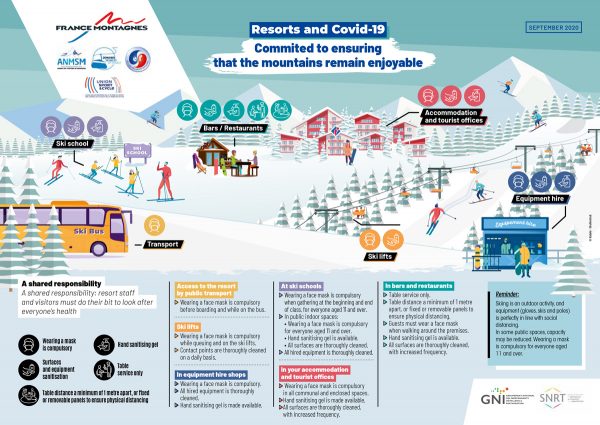 The practice of snow sliding sports is an outdoor practice, where the equipment (gloves, skis, ski poles…) favours social distancing measures.
Find out more on Saint Martin's official website:
https://st-martin-belleville.com/en/covid
---
Blog post "Skiing and Covid"
Find out about why a self-catered holiday is the way to go for your winter break this year. Read our latest blog here: