Best places to wine and dine in winter 2022/23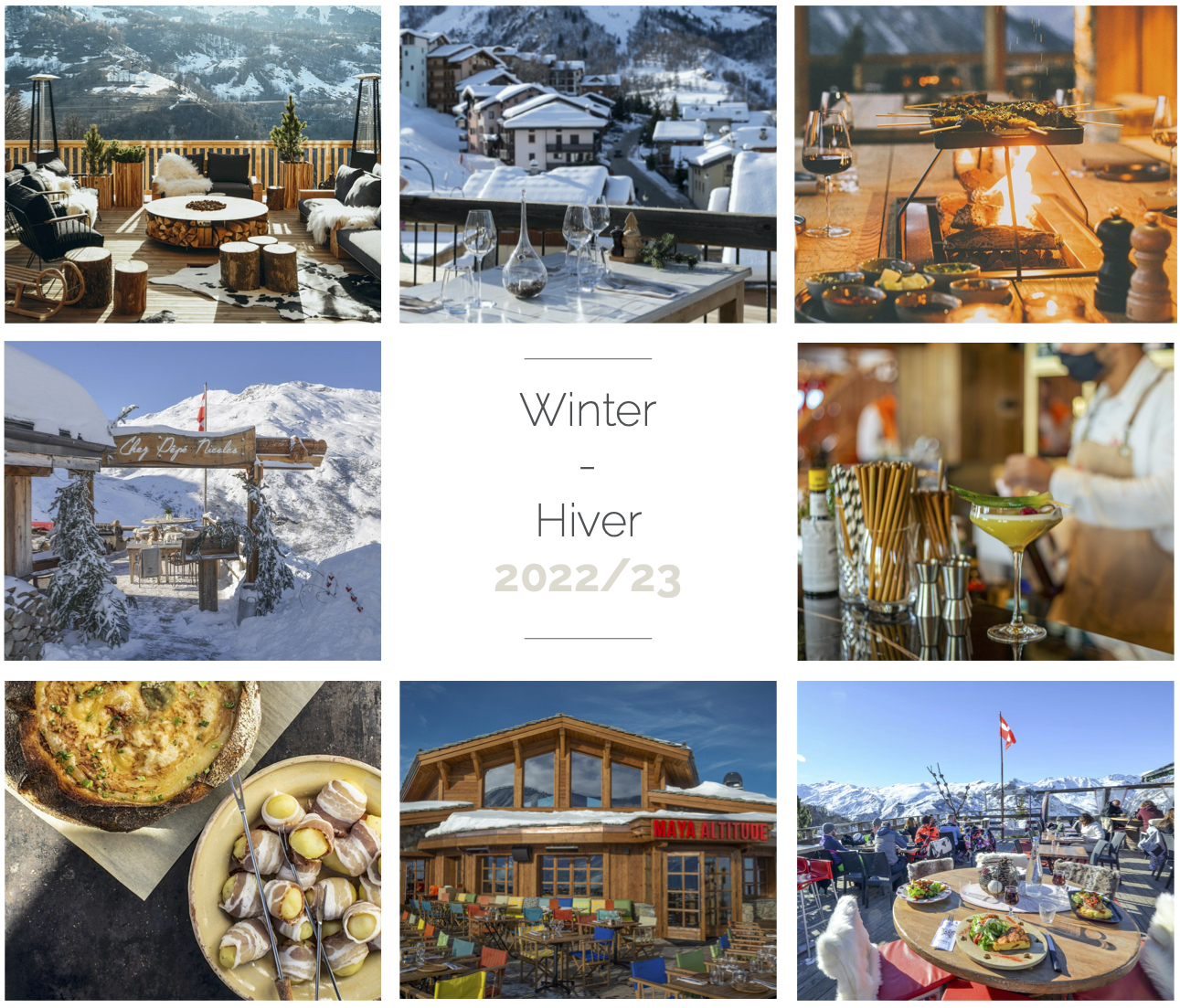 Find out more about our options on the best restaurants & bars in St Martin de Belleville.
---
For a quaint, authentic mountain village, St Martin's restaurant scene is constantly evolving- from plush, contemporary bars to traditional, Savoyard restaurants, you truly can find it all here these days. But with the ever-growing variety of choices, it can sometimes be hard to know where to go. Which ones are the best restaurants in St Martin de Belleville, you may wonder? Let us take you through our team's favourite spots to grab a casual bite, head for an après-ski afternoon, or even have a fine dining experience.
What's new in St Martin de Belleville?
Table du M Lodge – Brand new this winter season, St Martin's latest hotel 'M Lodge' will also be home to a wine bar, lounge, and restaurant. It promises 'authentic and tasty cuisine' from its renowned chef Clémente Hericotte. Definitely one to try out come December!
Le Montagnard Renovation – Everybody's favourite restaurant for cosy yet sophisticated food 'Le Montagnard' is having a revamp! With a brand new kitchen and an updated (but still cosy!) interior, this popular spot will be ready to welcome you back with a fresh look this winter.
---
Best place in St Martin de Belleville: Breakfasttop
Lodji Restaurant & Bar
If you fancy more of a sit-down breakfast, then Lodji Hotel's restaurant has the answer. From pancakes and bacon to fruit and pastries, it is certainly the place to fill up before a day on the slopes.
La Rissole
Within walking distance of most of our chalets, La Rissole is the local bakery in St Martin where you can head in the morning for croissants, other pastries, cakes and coffee.
Find out more
---
Best restaurants around St Martin de Belleville: Lunching piste-side top
Maya Altitude – lunch with a panoramic view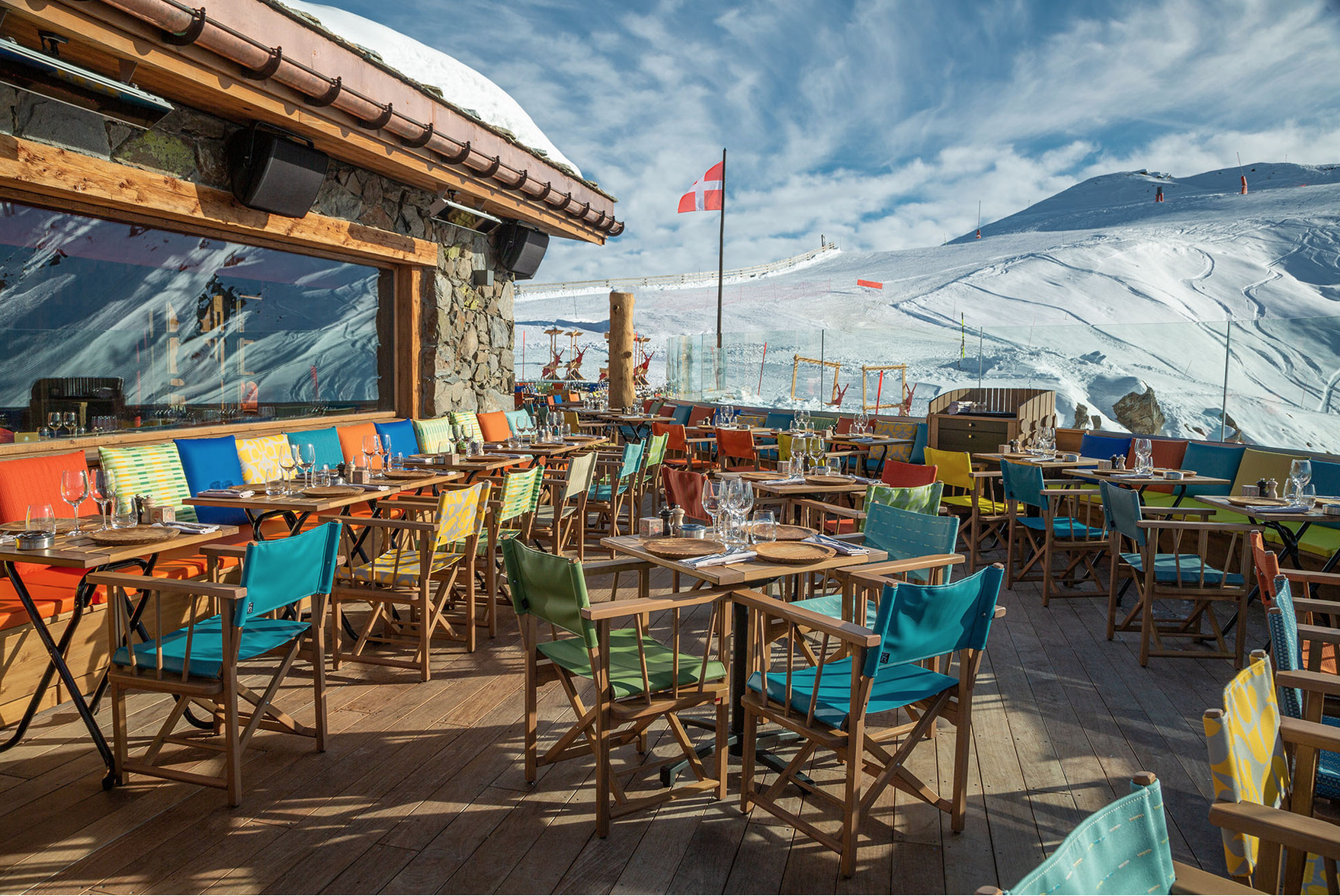 Brand new last season, Maya Altitude has definitely not lost its shine. Boasting a 360-degree panoramic view of the surrounding mountains from a sunny terrace, the setting alone is enough to draw skiers in. What keeps them coming back though, is the high-end, brasserie-style menu designed by Christopher Dupuy and Stephanie Deprez- think a modern take on traditional French favourites.
Even on the days when the weather might not allow for lunch on the terrace, you'll still be wowed by the interior, which is unlike any other restaurant in the 3 Valleys. The word 'funky' comes to mind here- bright colours, bold prints but with a bit of alpine wood thrown in there for good measure. If St Martin was waiting for its next 'trendy' spot to come along, it may have just found it…
Price Range: €€€€
Find out more
Le Corbeleys – A drink or a bite to eat close to home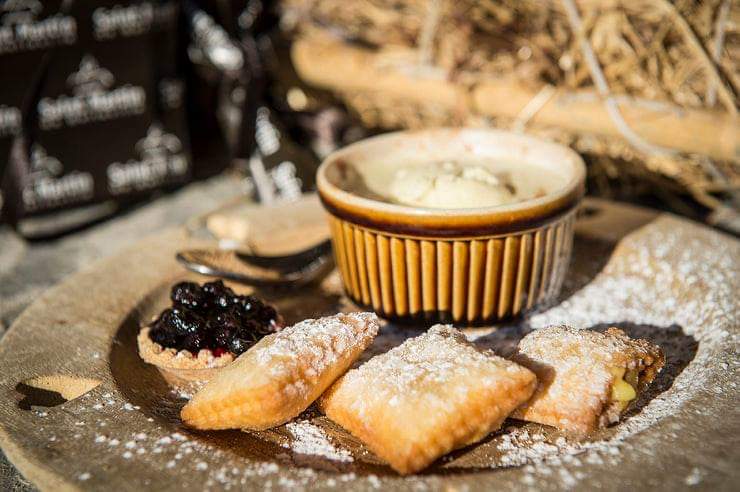 For a traditional, Savoyard meal or hot drink, look no further than Le Corbeleys. With its stunning outdoor terrace, and authentic, cosy interior, it offers a great setting close to home. Just at the top of St Martin 1, it is a short lift ride up so even a possibility for non-skiers- and a short ski home again.
It's a family-run business with fantastic service and delicious food. Our best tip: don't skip dessert!
Price Range: €€
Find out more
Chez Pépé Nicolas – An experience in its own right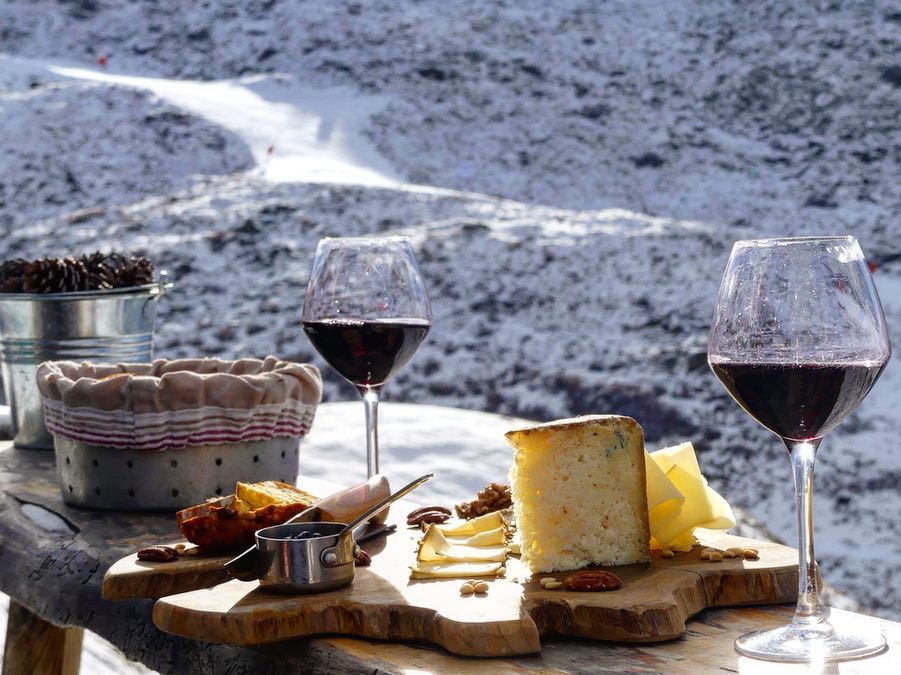 Easily accessible from Val Thorens, just above the Les Menuires valley, 'Chez Pépé' is one of those places where you cannot leave the 3 Valleys without trying!
In the family for generations, the restaurant has its own farm and gardens which supply a lot of its produce. Best of all, they offer two large sun terraces with breathtaking views out over the mountain range opposite. The seasonal menu never disappoints and offers vegetarian and gluten-free options too. A truly unique lunchtime ski spot.
Price Range: €€€
Find out more
La Ferme de Reberty – Hearty, mountain food
If you're looking for a comforting meal to warm you up on the slopes, then you are likely to find it at 'La Ferme de Reberty'. With a choice of classic (generously portioned!) dishes and a good-sized, sunny terrace, you can't really go wrong with lunch here.
Situated just a short ski from the top of the 'Menuires' chair lift, it's easy to get to, and when you do make it there, we recommend you try the Goulash soup!

Price Range: €€€
Find out more
---
Best Places in St Martin de Belleville for Apres-skitop
Lodji Bar – a touch of après-luxury
Whether it's in the plush bar area, or around the outdoor tables with their very own fire pits, enjoying an après-ski drink at Lodji feels like a real treat after a day's skiing. They offer a choice of cocktails as well as a great selection of beers, wines and spirits. If you're feeling peckish too, their bar snacks are always a big hit!
Price Range: €€€
Find out more
L'Art B – With a new, extended terrace
Located just at the bottom of the drag lift, the former 'Eterlou'- now 'L'Art B'- is a fantastic après spot for a relaxed drink on the sunny terrace, or on the colder days, a cosy drink down in the indoor bar area. Run by a super friendly team, you can always expect a warm welcome here, as well as a cold pint and sometimes the latest sports matches on TV!
Price Range: €€
Find out more
The 'L'Art B' restaurant is also a great option for lunch and dinner!

Pourquoi Pas Bar – 'The P Bar' to the locals
If you've been to St Martin before you are sure to know 'The P Bar', and if not, it's probably time to get to know it! Whilst you can find a mix of nationalities here, it is a particular favourite for British skiers. Run by an English family, it is a local favourite to grab a pint or even a cocktail after a good ski! They often run live-music nights throughout the season too, so be sure to check out the dates for those when you're in the village.
Price Range: €€
Find out more
---
Best restaurants in St Martin de Belleville: Dinner in the villagetop
Le Montagnard – Sophisticated food in an authentic setting

One of the go-to restaurants in St Martin de Belleville!
With a revamp this season of its interior- and a promise that it will still boast the same cosy charm- Le Montagnard is a picture-perfect setting for a dinner out on your ski holiday. Whilst it offers a very traditional, Savoyard feel, the dishes are (as you can see above) modern, beautiful to look at, and above all delicious!
Price Range: €€€-€€€€
Find out more

La Voute – A village favourite

St Martin's well-known and long-loved restaurant 'La Voute' is situated right in the heart of the village opposite the church, and offers a varied menu from steaks to woks to pizzas. Open for lunch and dinner, it has a terrace for lunch under the sun and an intimate dining area beneath vaulted ceilings for dinner.
Price Range: €€€
Find out more
Lodji Restaurant- high-quality dining

As well as a great après-ski spot, the Lodji Hotel also has a beautiful restaurant that serves a very high standard of food. A great option to celebrate birthdays and other occasions (or to just celebrate being on holiday!), the service is always fantastic, and the menu is different from anywhere else in the village- they even serve delicious oysters! You can have dinner in their contemporary, plush inside dining area, or lunch on their vast, sunny terrace.
Price Range: €€€-€€€€
Find out more
Le Grenier – Hotel St Martin restaurant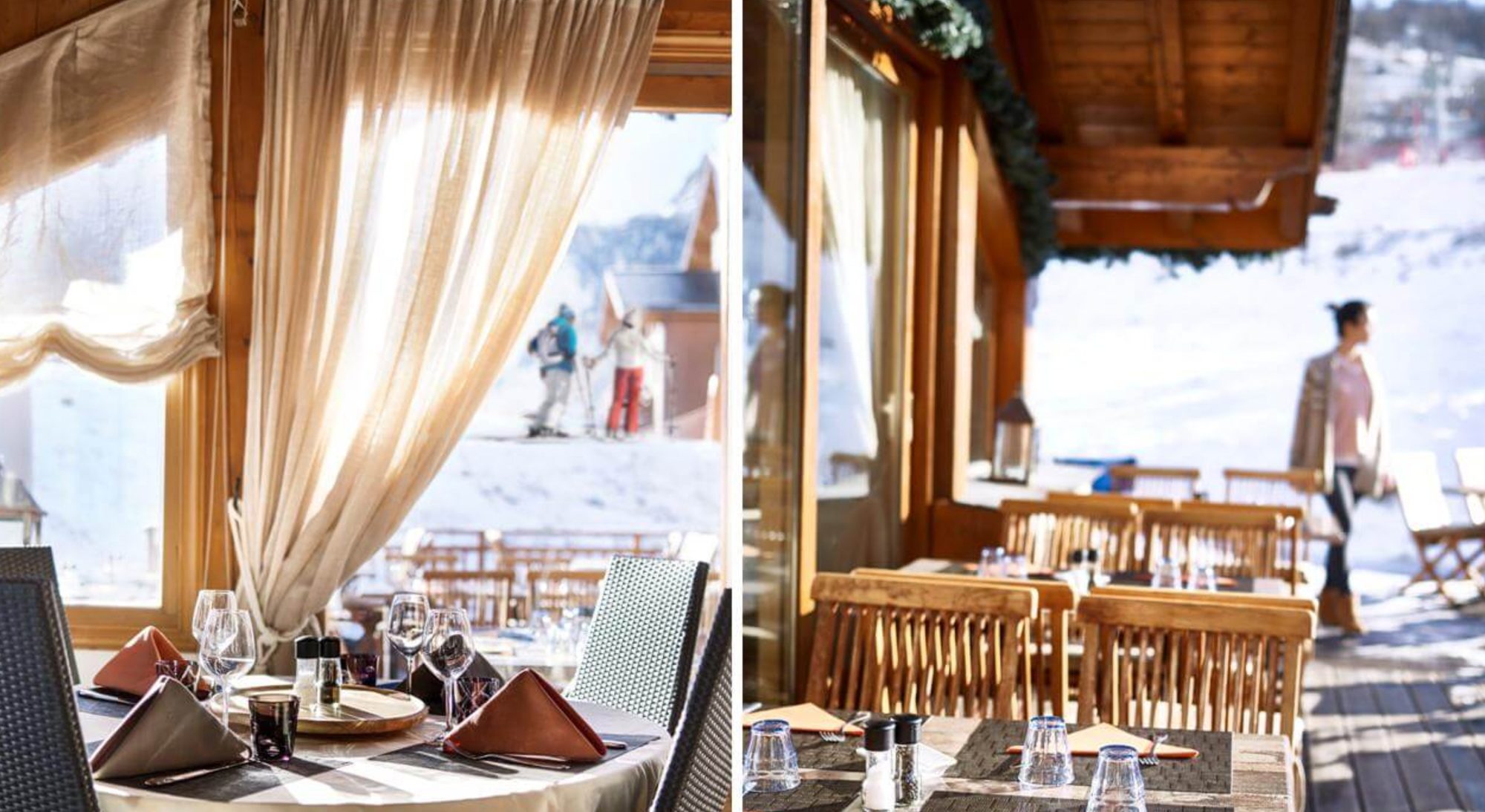 Conveniently located for lunch or dinner-just off the slopes and near the village centre- 'Le Grenier' is part of the 3-star 'Saint Martin Hotel' and is open to the public. Offering friendly service, great food and a good-sized menu, it's a lovely spot for a meal out whilst on your holiday. You can access the restaurant in the evenings via the main hotel entrance.

Price Range: €€€
Find out more
*NEW* M Lodge Hotel – Table du M Lodge restaurant, bar and lounge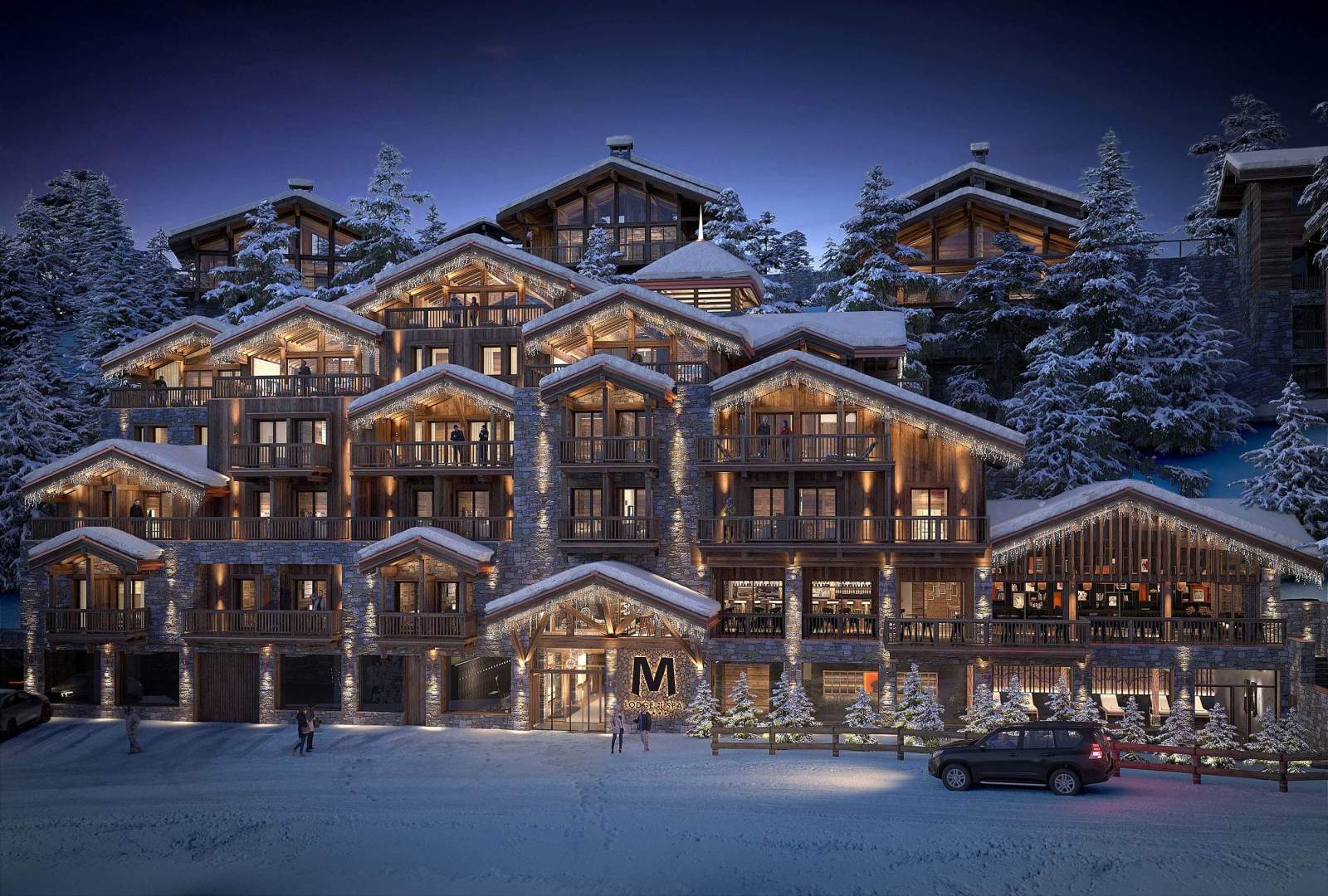 Brand new for this winter 2022/23, the luxury M Lodge Hotel will be opening its own bar, restaurant and lounge called 'Table du M Lodge'. Expected to offer a luxurious setting, as well as food from a renowned chef, it is surely one to try if you fancy indulging on your holiday.

Price Range: TBC, expected: €€€€-€€€€€
Find out more
L'Etoile des Neiges
Situated in the centre of the village, just a few steps from the slopes, and with both indoor and outdoor dining, the family-run 'L'Etoile des Neiges' offers a perfect spot for lunch or dinner in the village. Enjoy a hearty dinner in front of the fire, or a sunny lunch stop on the terrace. The food is always delicious and the service is impeccable!

Price Range: €€€
Find out more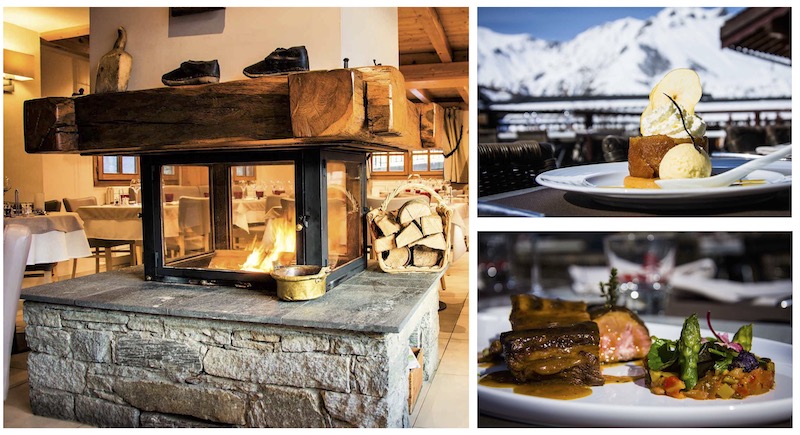 ---
Best restaurants in St Martin de Belleville: Fine Diningtop
La Bouitte

Another restaurant to try when you fancy really treating yourself, family and friends is 'La Bouitte'. Situated in one of St Martin's satellite villages, St Marcel, this 3 Michelin Star Restaurant is famous in the Savoie and beyond. With a rustic and cosy chalet feel to it, it oozes Savoyard charm and authenticity. However, whilst offering a traditional setting, the dishes served are known to be at the height of culinary innovation, and are certain to be different from any meals you've had before.
Price Range: €€€€€
Find out more
---
Best restaurants in St Martin de Belleville for a 'Unique dining experiencetop'
Le Trait d'Union
For an experience that truly plunges you into the mountain way of life (and one that you certainly won't forget), take a look at making a reservation for 'Le Trait d'Union' refuge. Situated just off the beaten track near the arrival of the St Martin 1 gondola, this refuge is surrounded by incredible mountain views. It offers lunch from 12 pm-2 pm every day except Wednesdays and has dinner options too. Guests can make their way up there in snowshoes for an authentic Savoyard meal, and even some stargazing from the outdoor nordic hot tub afterwards! Reservations are essential!
Price Range: €€
Find out more
---
So, as you can see, there is no shortage of dining experiences in St Martin de Belleville… From casual eateries and fine dining, all the way to mountain refuge restaurants, there is a fantastic variety of choice. Which one will you try out on your holiday?