Accommodation
The Prestige apartments are a collection of stunning, newly renovated apartments located in the heart of St Martin de Belleville. Chalet Prestige 5 is the newest addition and will be a stunning, high-end, 6 bedroom duplex apartment.
This spacious and bright penthouse accommodation sleeps up to 12 people comes with its very own gorgeous fireplace and breathtaking views from the large covered balcony.
This luxury apartment is fully equipped to a very high standard, and located on the St Martin slopes this spacious apartment makes for comfortable, easy living in a convenient location – no need to use a car for the duration of your holiday!
Please be aware Prestige 5 must be accessed via some flights of stairs, so is not suitable for those with reduced mobility.
Location
These ski-in ski-out apartments are located next to the St Martin village-centre drag lift piste. An incredible location with the benefits of not only having all of the village centre amenities right on your door-step, but also the slopes and lift-system.
It's a great location for families and groups of friends alike. Enjoy the flexibility of having all the restaurants, bars, and shops within seconds of your accommodation.
The chalet residence that has been built into the slope next to the village piste which gives most apartments direct access to the ski slopes. Whilst on foot you will have to climb some stairs to get to the Prestige apartments' front door it also means these newly renovated luxury apartment are extremely affordable and would be much more expensive if situated in a free-standing chalet.
Prestige N5 is situated 4 flights of stairs down from Rue des Grangeraies, then 2 flights back up and 8 flights of stairs up from the village centre.
To reach the village ski slope from this apartment's front door you go down 2 flights of stairs.
A very simple booking process - Directly with us!
For all enquiries and bookings for your self-catered chalet holiday in St Martin de Belleville please contact us directly.
We are available 24 hours a day, so please don't hesitate to give us a call!
If for whatever reason you can't get hold of us then please leave a message or send an email and we will get back to you as soon as possible.
---
Instant Bookings
Our chalets/apartments can be booked instantly via the availability calendar.
Your booking will created and you will receive a payment request within 24 hours.
---
Provisional Bookings
All of our chalets/apartments can be provisionally booked for up to 72 hours - For us to do this we require you to fill out our online booking form. Please be aware that your booking isn't confirmed until we have blocked the dates from our calendar and an email has been received from us.
After 72 hours you can either confirm and secure the booking by paying the 25% holiday deposit or the chalet / apartment will be made available again.
---
Booking form for provisional bookings
Please enable JavaScript in your browser to use our enquiry form.
Winter 2020/21
Usual arrival day: Saturday
Please enable JavaScript in your browser to view our calendar.
The prices above allow up to 12 people in the 'Prestige N5' apartment.
---
Are you interested in booking another one of the Prestige apartments? Or would you like to compare the apartments? No problem!
Go to the overview of all Prestige apartments.
Provisional bookings
All of our chalets & apartments can be provisionally booked for up to 72 hours – For us to do this we require you to fill out our online booking form:
Provisional Bookings
Officially rated as 3-star accommodation
ski-in ski-out location
< 5 minutes walk to village centre or gondola (stairs)
shared boot room + private ski locker (situated one floor below Prestige N1)
South-facing balcony
mountain views
fire place
wireless internet access
Smart TV with international channels
free access to Netflix account
dishwasher
Nespresso coffee machine + milk frother
Filter coffee machine
built-in hairdryers
private washing machine
Apartment layout + floor plans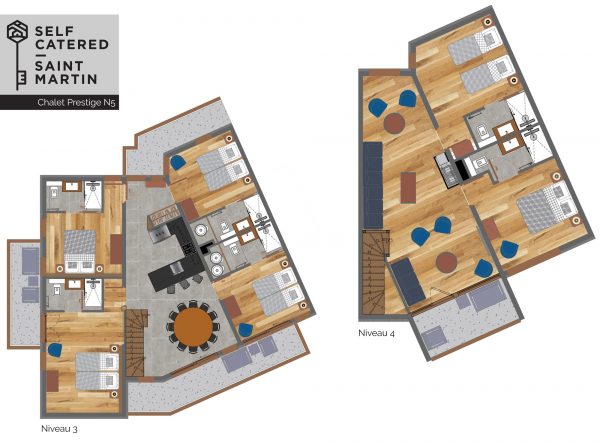 ---
The Prestige N5 apartment is 4 flights of stairs down from Rue des Grangeraies, then 2 flights back up and 8 flights of stairs up from the village centre.
Apartment entrance floor:
– En-suite bedroom | 1 double bed (140 x 200 cm)
– En-suite bedroom | 2 single beds (2 x 80 x 200 cm)
– En-suite bedroom | 2 single beds (2 x 80 x 200 cm)
– En-suite bedroom | 2 single beds (2 x 80 x 200 cm)
– Spacious open-plan kitchen and dining area
– Large south-facing balcony with outdoor furniture
Apartment top floor:
– En-suite bedroom | 1 double bed (140 x 200 cm)
– En-suite bedroom | 2 single beds (2 x 80 x 200 cm)
– Cosy living area under the eaves with fireplace
All our prices are based on 7 nights self-catered accommodation (unless otherwise stated) and all of the following is included when booking any of our chalets or apartments:
electricity + water
bedding + towels (Your beds are made on arrival.)
cleaning at the end of your stay (* Please see 'Booking Terms' below.)
internet access
---
Additional items may be included depending on your chalet. Please check at the time of booking your apartment.
firewood (unlimited or starter pack)
cots + high chairs (subject to availability)
---
*new this season* | Tourist tax is not included within the price
Due to new tourist tax rules in St Martin, this will now be collected separately along with the holiday balance (10 weeks prior arrival in resort).
Prices are per adult (>18 years of age) per night:
€1.00 for 2-star accommodation
€1.65 for 3-star accommodation
€2.55 for 4-star accommodation
You will find your chalet's star rating within the 'Chalet Facilities' tab.
"An independent chalet company offering a unique service"
'Self Catered - Saint Martin' is proud to offer an excellent service from the moment you get in touch right up until we wave you off at the end of your holiday. Our Concierge Service starts by helping you organise your ski holiday before you arrive in resort. From airport transfers to ski rental, lessons, passes & catering options.
Once you have arrived in resort we are available 24/7, whether it's to assist you with anything or simply answer any questions you may have! We live in resort, welcome all our guests personally into their chalet and make sure every single guest has the ski holiday experience he wished for!
Please read our booking terms carefully and don't hesitate to get in touch if you have any questions
Holiday payment terms:
A 25% non-refundable deposit is required to secure the booking.
The balance is due 10 weeks prior arrival in resort.
---
Check-In: 5:00pm | Check-Out: 9.00am
You can store your luggage in case of an earlier arrival / departure. Please let us know in advance.
---
Damage Deposit:
It's the norm to charge a damage deposit on self-catered bookings. The amount depends on the size and standard of the property. You will find a list below.
We will collect the damage deposit ideally prior arrival in resort and release it once we checked the property after your departure.
€2000 | £1800
Chalet Le Cœur Blanc + "HomeByU" chalets
€1500 | £1350
Chalet Le Grand Cœur, Chalet Astilla, Chalet Riondaz + Chalet L'Étable
€1000 | £900
Chalet Saint Pères, Chalet Fruitière - Astragle
€800 | £720
Chalet Fruitière - Camarine + Chalet Ann
€500 | £470
Chalet Fruitière - Bernardie, Chalet Alice Velut - Perce Neige
€300 | £280
Chalet Alice Velut - Azalee, Iris, Marguerite + Violette
Please contact us if you cannot find your chalet on this list. A damage deposit may still be collected.
---
Extra person fee:
Some of our properties have the option of increasing the capacity and adding extra people on a sofa or fold-out beds. In this case the charge for adding an extra person is 25% of the per person price (Listed price divided by total number of beds in the chalet). The minimum fee is €70 per extra person.
---
Cleaning / End-of-stay requirements:
You will arrive to a fully cleaned property. In the event that you find it hasn't been cleaned properly on arrival please contact us immediately so we can rectify this as soon as possible.
Before your departure we require you to:
- leave the apartment in a tidy and acceptable state
- remove all rubbish and recycling
- leave all the kitchen contents clean
- wash, dry and clear away all dishes
- strip beds and put linen / towels in one pile
- sweep out fireplace
- return furniture as well as other items to their original position
If the chalet is not left according to the chalet check-out requirements, please be aware that an additional cleaning charge may apply and will therefore be taken off the security deposit.
---
Smoking & Animals:
There is a strict no smoking policy in all of our chalets. Furthermore pets are not allowed unless permission is specifically requested and given at the time of booking.
Adresse:
Rue des Grangeraies
73440 Saint-Martin-de-Belleville
FRANCE
​
Coordinates:
45.3788101, 6.5038992
Please find a list of our current special offers below!
---
We understand that everyone is currently going through a rather unsettling time, and that booking a ski holiday for winter 2020/21 may not seem feasible right now… BUT we strongly believe that you deserve something to look forward to!We know that during such unprecedented times like these, different rules must apply and special measures put […]