WINTER 2023/24
Usual arrival day: Saturday
The prices for these wonderful ski-in and ski-out apartments have now been released.
These apartments are not available on instant book. If you are interested please get in touch for a quotation, we are able to put a week on hold for you!
So if you are interested in a specific apartment and week then please let us know and we can do that for you! Contact us if you'd like a price estimate for a specific apartment/week!
---
The Prestige apartments are a collection of stunning, newly renovated apartments located in the heart of St Martin de Belleville.
With ski-in, ski-out access and breathtaking mountain views, these luxury en-suite bedroom apartments provide the perfect accommodation for that ski holiday you've always dreamed of!
Being situated in a residence directly next to the village slope and drag lift means you have direct access to skiing. Although you'll have to take several flights of stairs to the apartments when walking into the village it also means that these apartments can be offered for a great price!
We are offering four individual 8-person apartments, all located within a residence directly above each other. These apartments are great to be booked together offering space for up to 44 people when booked together.
Resort Map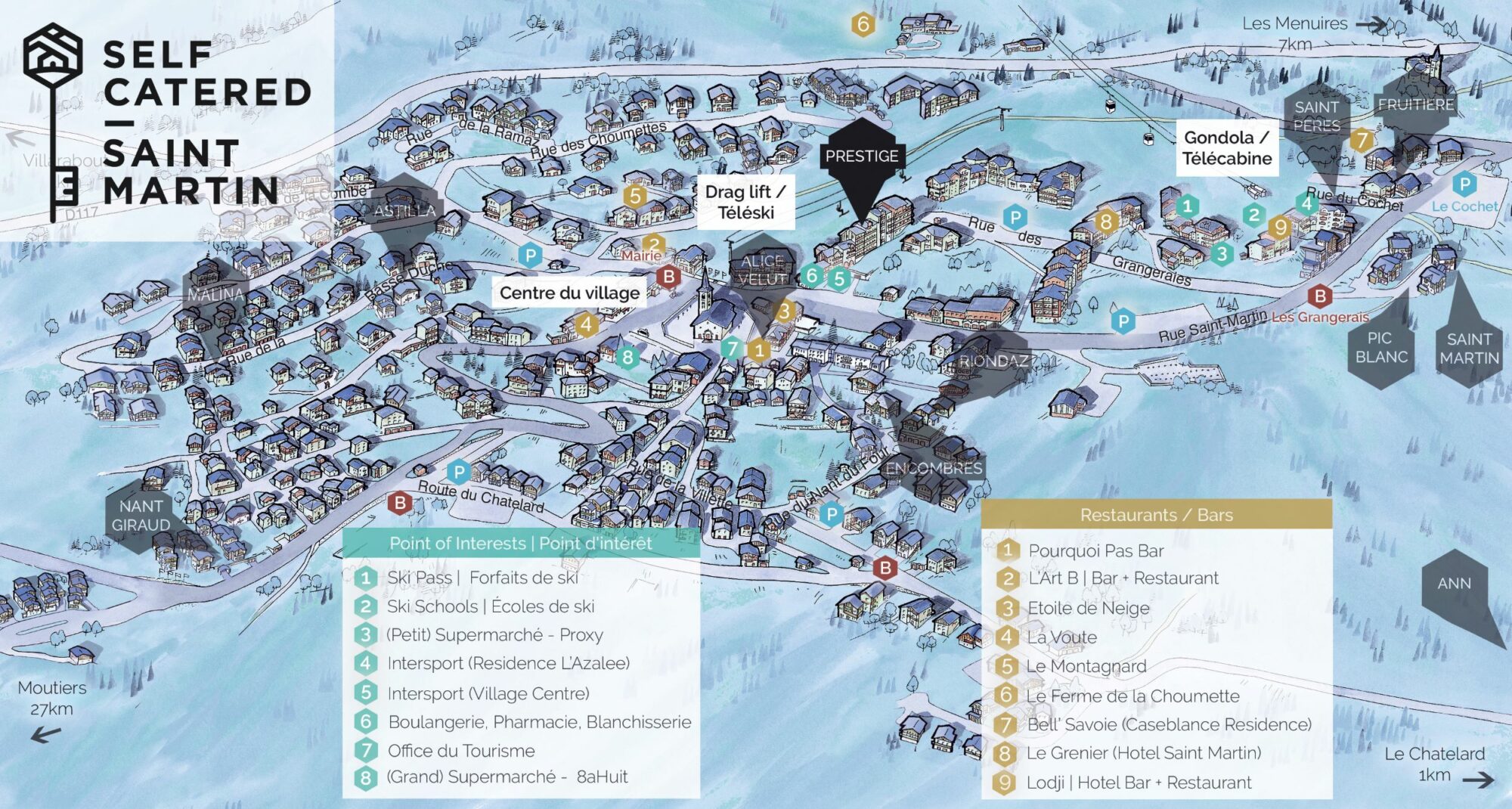 ---
★★ – rated
4 bedrooms | 5 bathrooms
100m2
private in-house sauna
closest apartment to the village centre (4 flights of stairs up from the centre, 6 flights of stairs down from Rue des Grangeraies)
ski room and storage situated one levels below the apartment
---
★★ – rated
4 bedrooms | 4 bathrooms
95m2
level 0 (5 flights of stairs down from Rue des Grangeraies, 5 flights of stairs up from the village centre)
ski room and storage situated two levels below the apartment
---
★★ – rated
4 bedrooms | 4 bathrooms
95m2
level 1 (closest apartment to Rue des Grangeraies – 4 flights of stairs down from Rue des Grangeraies | 6 flights of stairs up from the village centre)
ski room and storage situated three levels below the apartment
---
★★ – rated
4 bedrooms | 4 bathrooms
95m2
level 2 (4 flights of stairs down from Rue des Grangeraies, then one flight back up | 7 flights of stairs up from the village centre)
ski room and storage situated four levels below the apartment
---
★★★ – rated
6 bedrooms | 6 bathrooms
160m2
level 3 – top floor (4 flights of stairs down from Rue des Grangeraies, then 2 flights back up | 8 flights of stairs up from the village centre)
ski room and storage situated five levels below the apartment