As part of our concierge service we are more than happy to arrange your ski passes for you.
These can be booked with us prior to arrival can be cancelled at any time and payment isn't due until the day of arrival in resort.
Save yourself the hassle (and risk) of queuing in the ski pass office and let us help you organise your ski passes for you. To be waiting at your chalet on arrival!
Some of the none-peak weeks are eligible for a discount – Only when booked via 'SC-Saint Martin'. Please find further information below.

---
Ski pass information
Discounts
When booking your ski passes via 'SC – Saint Martin' you will receive a 5% discount on certain weeks for adult, 6-day or longer passes.
Date
Discount
Low/mid season
05/12/23 – 20/12/23
07/01/24 – 27/01/24
09/03/24 – 23/03/24
13/04/24 – 20/04/24
5%
High season
20/12/23 – 06/01/24
28/01/24 – 08/03/24
24/03/24 – 12/04/24
public price
Winter 2022/23 – Price list
High season rates
Dates: 19/12/2022 – 16/04/2023
Age group
Les Menuires
/ Saint Martin
The Three Valleys
Children
05 – 12
213.80 €
288.00 €
Adults
13 – 64
267.30 €
360.00 €  (Tribu 340.00 €)
Seniors
65 – 74
240.50 €
324.00 €
Family pass
4 persons
213.80 € pp
288.00 € pp
Prices given are for 6-day passes.
Low season rates
Date: 12/12/2022 – 18/12/2022 | 17/04/23 – 23/04/23
Age group
Les Menuires
/ Saint Martin
The Three Valleys
Children
05 – 12
213.80 €
259.20 €
Adults
13 – 64
267.30 €
324.00€
Seniors
65 – 74
240.50 €
291.60 €
Family pass
4 persons
213.80  € pp
259.20 € pp
Prices given are for 6-day passes.
Definition 'family pass':
The family pass is given to two adults and their two or more children. The children have to be under 18 years of age in order to be eligible for a family pass.
Unused ski passes can be cancelled at any time – Free of charge!
In case the resort closes (such as in relation to Covid) any unused days will be refunded on a pro-rata base.
HOW TO CANCEL
To cancel your ski pass please email info@sc-stmartin.com with your reference number and further information about which passes need to be cancelled.
When buying ski passes first of all you will have to choose between a 'Full Three Valley' ski pass or the smaller and cheaper local area 'St Martin / Les Menuires' pass.​
Let us help with your decision!
If you are an intermediate to expert skier or snowboarder then we highly recommend spending a little more for the full 3 Valley pass which gives you access to all ski resorts within the 3 Valleys and a skiable area of over 600 km.
It is also great as you don't have to worry about skiing into an area that you don't have a pass for and it gives you many options, i.e. skiing in the trees of Meribel when it's foggy and snowing or heading to Val Thorens for breathtaking views on a sunny day! Therefore it might even be worth it for you if you are a beginner to intermediate skier / snowboarder.
For absolute beginners a local area pass ("Les Menuires / Saint Martin) is mostly sufficient. If you have booked ski lessons then we recommend speaking to your ski school before purchasing a ski pass.
Full 3 Valleys
The ski resort of Les Menuires and the village of Saint Martin de Belleville provide doorstep skiing access to the world's largest interconnected ski area: Les 3 Vallées.
Accessibility is its major draw, whatever the altitude, from 1,100 metres to 3,200 metres, there's something to suit everyone: atmosphere, altitude, exposure, landscapes, comfort, experiences and choice. It boasts excellent, guaranteed snow cover throughout the season. Each of its ski resorts is easily accessible with many ski-in /ski-out connections.
Casual skiers and beginners can also enjoy Les 3 Vallées' ski pass: using blue runs, walking, snowshoeing… so you can meet up with the rest of the group in a slopeside restaurant. If you're looking for freedom and wide-open spaces, this is the ski area for you!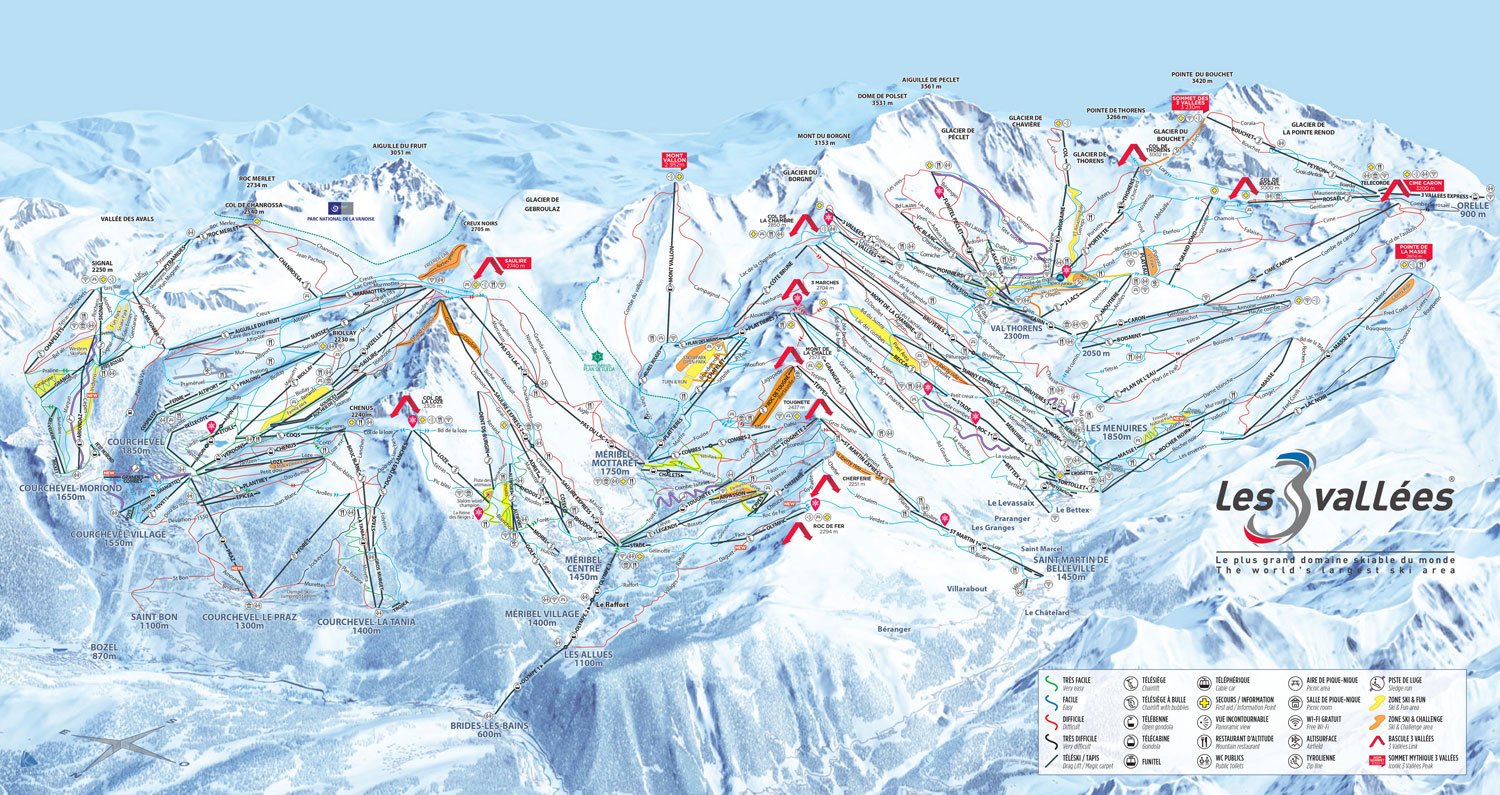 ---
Les Menuires / Saint Martin
This area extends from the resort of Saint Martin de Belleville to the summits of La Masse and Mont de la Chambre in Les Menuires, located opposite each other for 360° skiing all day long. It offers a variety of runs and activities, 85% of which are located above altitudes of 1,800 metres.
Several "easy rider" zones welcome beginners to learn and practise in complete safety, whilst La Masse and La Becca sectors invite you to discover their fun zones.
More experienced skiers will love our three Liberty Ride areas with their safe but ungroomed ski runs. Gliding over these safe powder snow fields the day after a snowfall is heaven.
Les Menuires / Saint Martin de Belleville ski area also enjoys privileged access to neighbouring resorts in Les 3 Vallées. Make the most of your experiences at the heart of our ski area: a place for play, sport and relaxation for all.