Not only has St Martin de Belleville stayed true to its origins, with its twisting narrow streets, traditional stone and wooden chalets and a beautiful clock tower right in the centre of the town, it is also located up at 1450 m in altitude. This is a lot higher than many other European resorts. With the 3 Valleys as a snow-sure ski area, if you're nervous about not having enough snow at Christmas, the 3 Valleys and St Martin de Belleville is definitely the place to go. If you are after traditional features, beautiful scenery, and snow-sure skiing for Christmas then St Martin de Belleville should definitely be at the top of your Christmas wishlist.
Watch the video below for a sneak peek of just how magical St Martin de Belleville is at Christmas:
Here we take a look at the top 5 reasons you will want to stay in St Martin de Belleville with your family for your Christmas ski holiday…
1. Meet Father Christmastop
Picture this – a white Christmas, beautiful mountain views, lit up Christmas trees, and very happy faces. Can you imagine a better setting for your children to meet Father Christmas? Neither can we! At St Martin, you get exactly that. Father Christmas wanders through the village and on Christmas Eve there is a beautiful torch-light descent down the slope in the heart of the village. Not to mention the live entertainment and free mulled wine for the adults (hot choccy for the kids too!).
This is then followed by an amazing fireworks display which the whole family will enjoy. The best apres-ski bar in town, Le Pour-Quoi Pas also offers delicious mulled wine and a lovely, warm atmosphere. Can you think of a better way to spend Christmas Eve with your family?
2. Visit the Christmas Markettop
The Christmas market in St Martin is also something you and your family will adore. It is right in the centre of the village. Many more Christmas-themed events take place throughout the week, so if you want to do something different everyday/evening, then no problem.
The local butcher has mouth-watering stuffed turkeys available (don't forget to order!) and the local patisserie/boulangerie prepares traditional Bûches de Noël (Chocolate Christmas Yule Logs) for those who'd like to try something local…
Chocolate AND Christmas in the same sentence? Who wouldn't want to taste a treat so delicious!
3. Enjoy the Homely-Feel of the Resorttop
If you are looking for a family holiday, in a small, local, picturesque and homely resort, then St Martin de Belleville really is the best ski resort to spend Christmas. In comparison to the larger resorts nearby, St Martin has the very special advantage of no high-rise apartment buildings obstructing the stunning views… just quaint chalets with open log-fires – perfect for Father Christmas to come down the chimney on Christmas Eve.
Imagine sitting by the log-fire, with the kids in bed, relaxing in your chalet with a nice bottle of red. No stress. No worries. Perfect!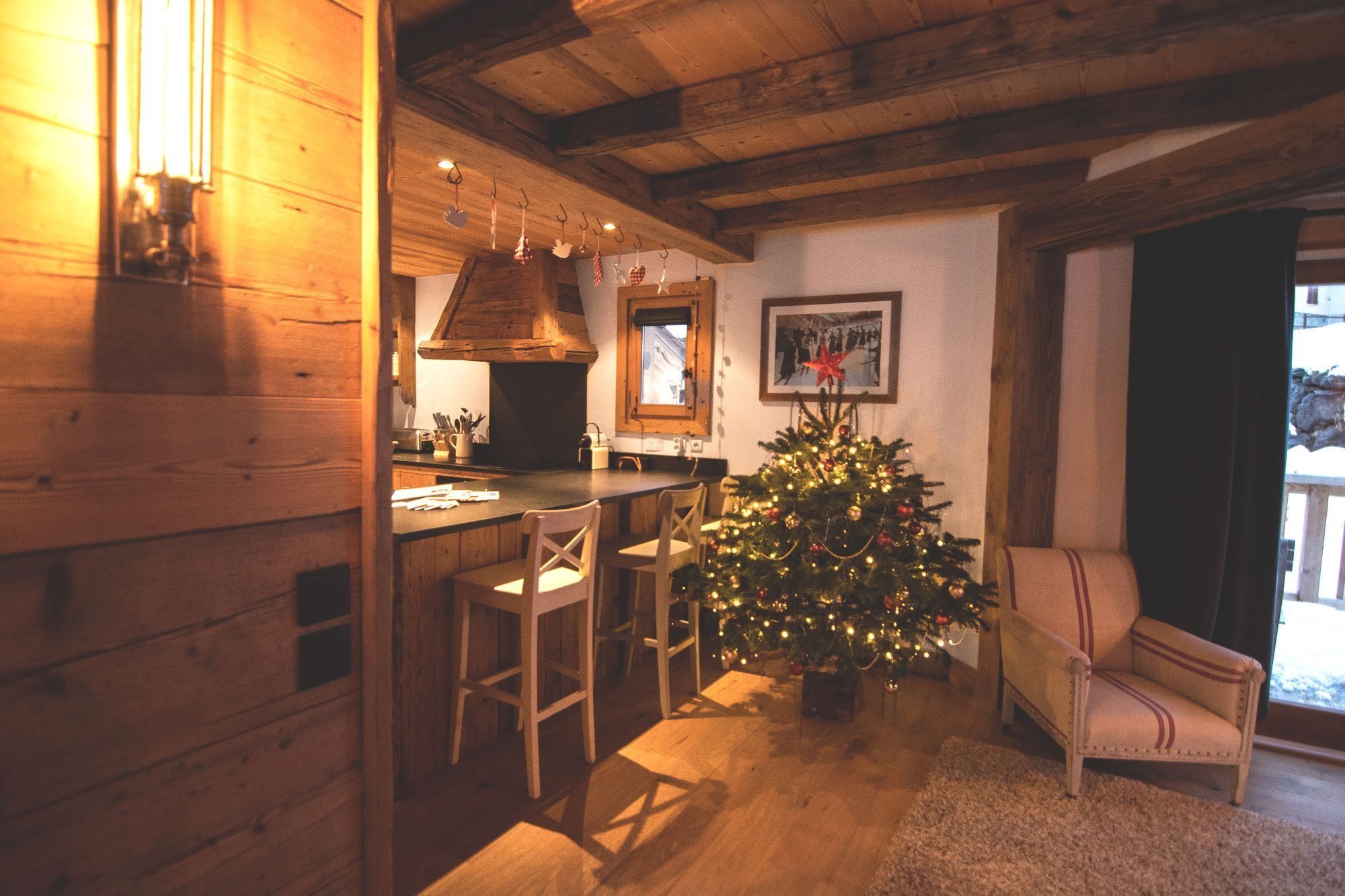 >>> View our hand-picked ski properties with fireplaces
4. Ski on Christmas Daytop
What better Christmas present than being able to actually ski with your family on Christmas Day? It really is a magical experience. Not to mention, everyone's dream of a 'white Christmas'. Once you have enjoyed your fun-filled, festive day on the slopes, you get to come back to your cosy chalet.
Think about snuggling down in the evening for a roast dinner and the all-important present-opening around the Christmas tree (all of our chalets (except Prestige and l'Etable) come with their very own decorated Christmas tree!).
Expect a magical day for the whole family… the kids as well as for Mum, Dad and the Grandparents.
5. Take a Dog-Sledding Triptop
Another great family idea is to take a dog-sledging trip through the snowy forest in St Martin. Just like being on a real sleigh being pulled by reindeer! Enjoy this exhilarating trip for 30 minutes or 1 hour and take in the beautiful scenery as you are being pulled along by sledge-dogs! (Bookings are compulsory – directly at the Tourist Office).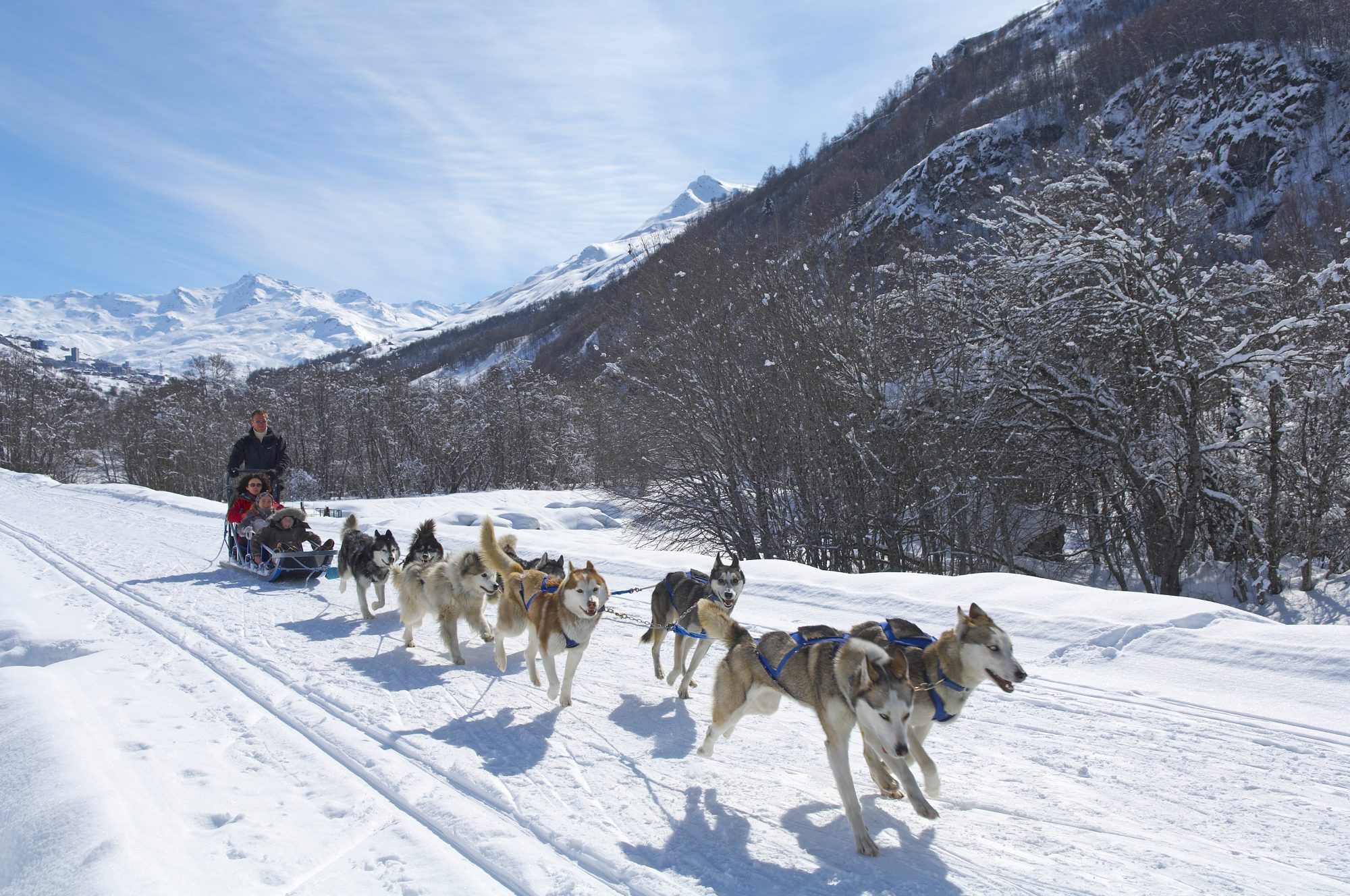 Don't forget that Christmas in St Martin de Belleville tends to be quieter than New Year week, so if you are looking for quieter slopes, slightly cheaper prices and a festive atmosphere, Christmas is the perfect time to come.
So all-in-all, if you're looking for an unforgettable family experience over Christmas in a special village-resort conveniently located right in the heart of the 3 Valleys… then come and discover St Martin de Belleville for yourselves – You'll fall in love with everything it has to offer (and more) and we're confident you'll be back year after year! Give your family a Christmas to remember!
Do you need any more reasons why St Martin de Belleville is the best family ski resort at Christmas? I didn't think so! If you need help planning your trip or are looking for a gorgeous chalet to spend Christmas in, just drop us a message and we'd love to speak with you.