Off–piste skiing is becoming more and more popular. With professional gear now accessible to the average skier, it is now safer and easier to ski deep powder. But with so many resorts in the world, how do you choose the right destination that will ensure great off–piste runs? Here we will be explaining why St Martin de Belleville is the best place for off–piste skiing in France.
What is off-piste skiing?
'Piste' is the French word for 'track'. So in terms of skiing, piste means a groomed trail or slope, the man-made runs. Off-piste is considered to be backcountry skiing or skiing on unmarked terrain. It used to be an activity that only the most experienced skiers and snowboarders would explore. In recent years off-piste skiing has become popular with people of all different levels and experiences.
Off-piste skiing is great fun and also an exhilarating experience, but it can be dangerous, especially if you are not properly equipped or experienced enough. If you've never been off–piste before, getting a guide to go with you is best. They can show you the safest routes and teach you how to read the mountain and the terrain. This is to help you stay as safe as possible. The guides will also explain what to do in the unfortunate event of an avalanche.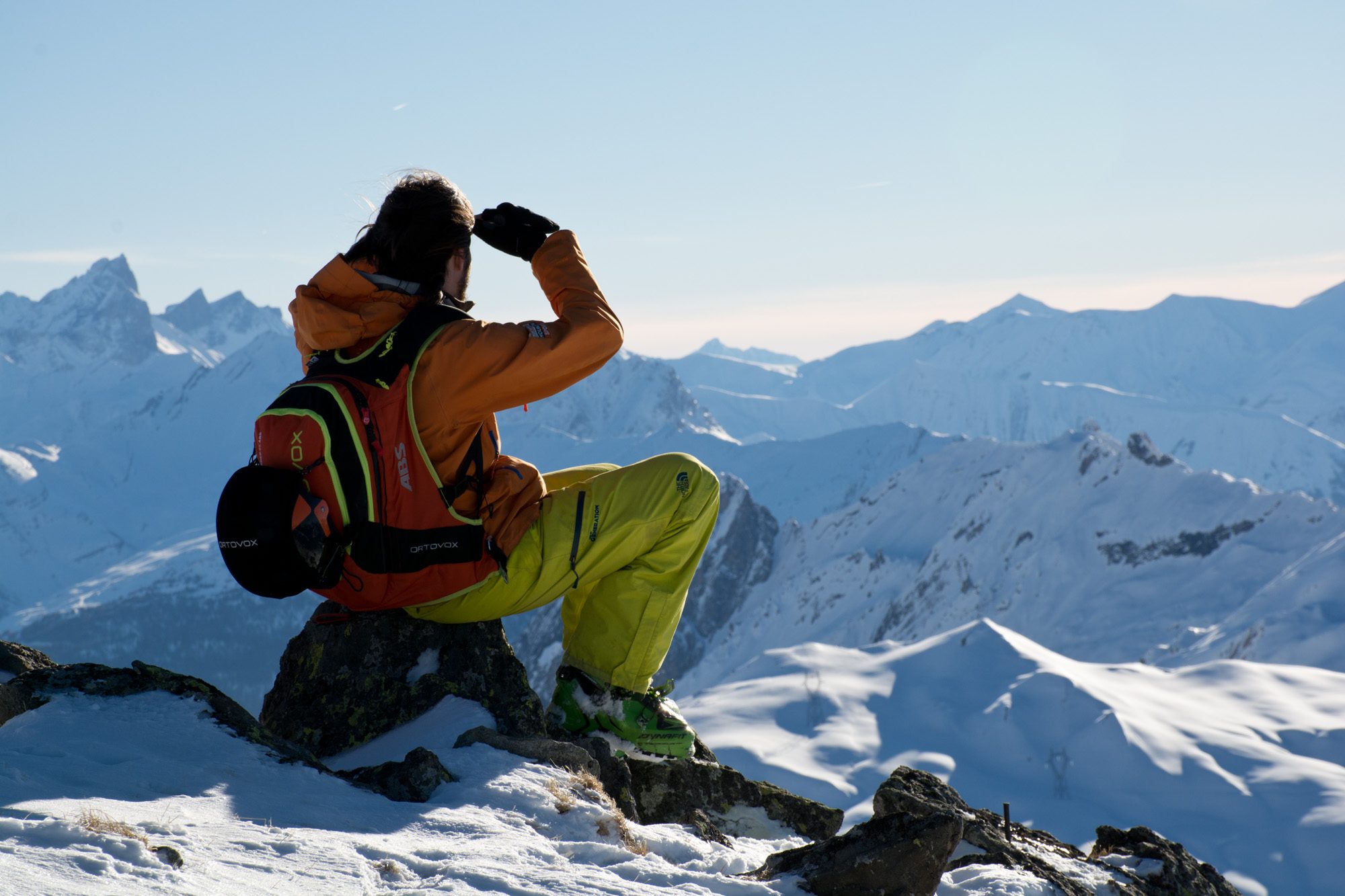 Why St Martin de Belleville is the best place for off-piste skiing in France
St Martin de Belleville is a very special place. The village itself is traditional, beautiful and lived in by local residents. It is not overrun by tourists and is still situated in the heart of the world's largest ski area which is located in the 3 Valleys. The village has retained its alpine charm and has kept away from the commercialism of the larger ski resorts. However, it still offers amazing big-resort skiing and unmissable off–piste itineraries for all levels.
The best ski slopes in France
There is a wide variety of off–piste options, all starting directly from the village. Everything can be started and finished in St Martin de Belleville itself. No need for a shuttle bus to get to and from the slopes. No need to awkwardly carry your equipment for what feels like an eternity. If you've been skiing or snowboarding before and stayed on the outskirts, you probably can relate.
However, if you do want to check out the off–piste further afield in the 3 Valleys, St Martin de Belleville has quick and easy access to these as well. The best of both worlds!
The off–piste itineraries
They are easily accessed from the top of the lifts. Hence there is no need to hike for miles to find great untracked powder. This also means no need for any complicated equipment. just the basics, which you can find further down. St Martin de Belleville is also full of friendly mountain professionals who are more than happy to advise you on the best places to go off–piste. This will also depend on the conditions and on your level of experience.
One of the best things about the off–piste in St Martin de Belleville is the diversity of the skiing available. No matter what your experience is, we guarantee that there will be a perfect route for you. With such a wide variety of terrain on St Martin's doorstep, you can choose between all of the following:
Gentle undulating hills, best found in St Martin itself
Steep corridors in VT and La Masse in Les Menuires
Tree-line descents in both Meribel and St Martin
Wide open terrain in St Martin
Itineraries off the beaten track throughout the whole 3 Valley area
If you want to explore the 3 Valleys properly, St Martin de Belleville provides quick access to other great resorts. Once at the top, you can directly drop into Meribel/Mottaret and Les Menuires. A great base for adventurers!
The mountain itself is unique as it benefits from different facing slopes. This provides skiers and boarders with multiple options throughout the day, at different seasons. Meaning there is always something for everyone. There is also a huge selection of slopes at varying altitude levels. This provides multiple options depending on weather, snow conditions, temperature and wind.
Off-piste routes that are safe
If you're new to off–piste skiing, then the Liberty Ride area is perfect for you. A specific safe off-piste zone is the perfect introduction and a great way to safely experience the sensation and freedom of going off–piste.
You can also rest assured that the excellent ski rescue service is always nearby with helicopters, avalanche dogs and experienced patrollers. Make sure you have excellent winter cover insurance. You don't need to go far from the main area to find good conditions in comparison to a lot of other ski resorts in the Alps. Don't forget to save the local ski patrol number in your phone, which can be found on your piste map.
Safety should always be your number 1 priority when thinking about going off–piste, and there is specific equipment that you must take with you, even on the safest of routes.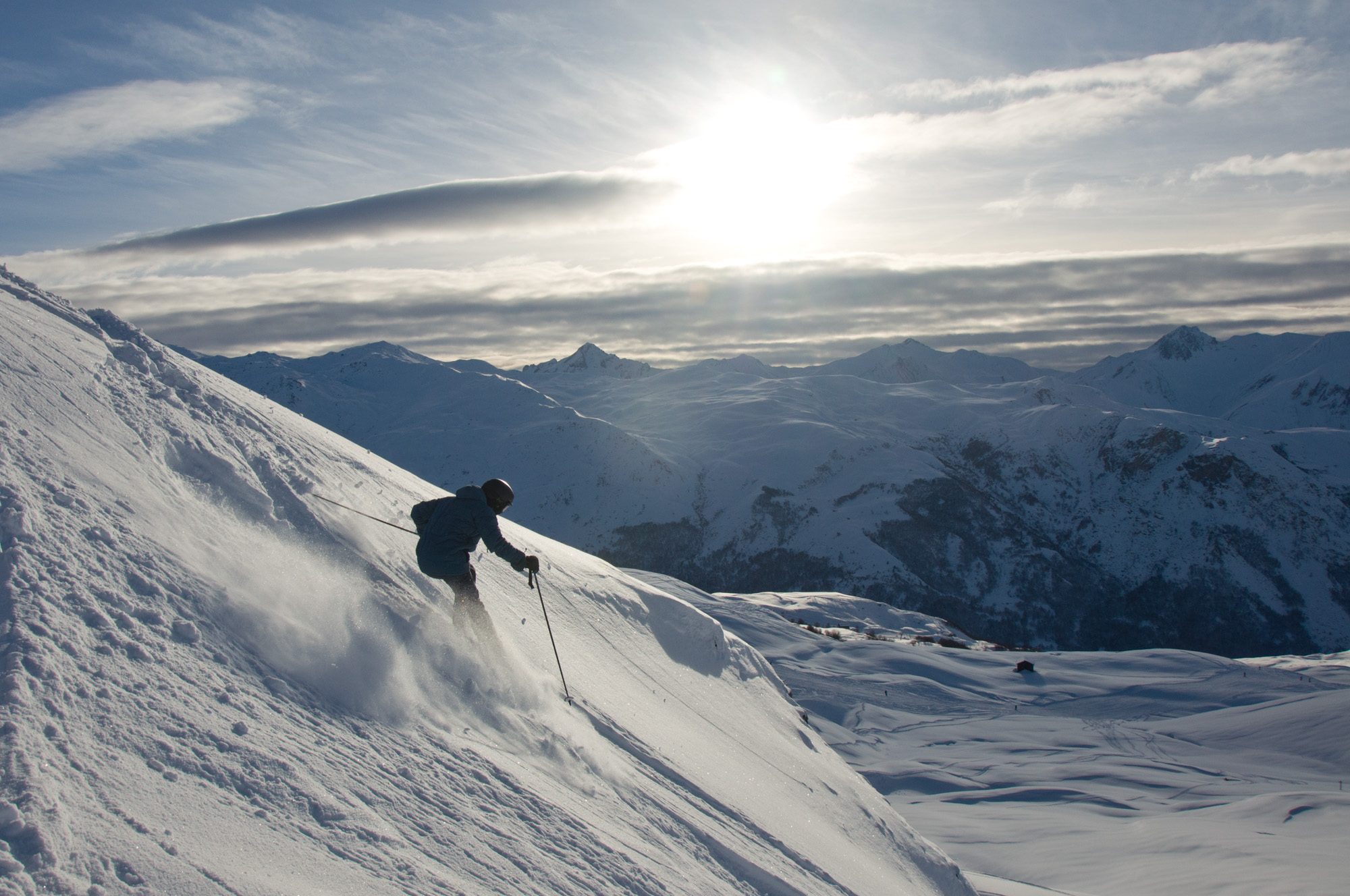 Off-piste skiing safety equipment
You should never head off-piste without the basic gear. More and more skiers and boarders start skiing off–piste without the correct equipment, leading to more fatal accidents.
There are three main pieces of equipment that you should always take with you.
1. Avalanche Transceiver
A transceiver is a vital kit for any off–piste skier as it can help you be found should you get stuck in an avalanche.
They work by emitting a pulsed radio signal. If someone gets buried, other transceivers carried by the party or rescue team can pick up the signal emitted from under the snow. It is important that you fully understand how to use your transceiver properly before you hit the slopes. Digital transceivers are the most common type you will find, as they are easy to use and understand.
Prices can vary depending on the number of antennas, the type of display and microprocessor, but we advise you to invest in a good one as this bit of equipment could potentially save your life. If you have never been required to purchase a transceiver before, then you may not know what details to look out for.
Below are the best recommendations and where to buy them:
2. Avalanche Probe
Another bit of equipment you must always carry with you is a snow probe. Simply put, a probe is a rod used to poke through avalanche debris to find buried victims.
The poles are often collapsible, so they won't take up much room in your bag. The probes are used once a person has been located by the transceiver, and prices are fairly cheap. The favourites we like to carry with us are recommended below:
3. Avalanche Shovel
This is pretty self-explanatory as to what it is. Once you have found someone with the probe, you can then start shovelling.
Although a fairly simple bit of equipment, you want to invest in a good quality avalanche shovel to make your life easier and to ensure it doesn't break mid-digging. This means finding a light yet strong shovel that is easy and quick to assemble.
We have listed our favourites below:
Alternatively, you can buy a kit that includes a transceiver, probe and shovel in a set. These are much better value.
Below are the two best sets that you could find on the market.
A transceiver, probe and shovel are the three pieces of equipment you MUST have with you at all times whilst skiing off-piste. We also recommend other items, which are:
Backpack
Goggles
Helmet
Recco reflectors
Off-piste skiing is, more often than not, a fun and safe activity to do however, it can also be dangerous if not prepared and well-informed beforehand. So remember that safety always comes first!
Off-Piste Ski Courses
They offer off-piste lessons and guidance and will venture out with you to ensure your maximum safety at all times. Being the experts, they will also know all of the local hidden gems and can advise you on what routes are most suited for your level of experience.
Here is what NewGen thinks about the off-piste skiing in St Martin de Belleville:
With its excellent location next to Val Thorens & Les Menuires, St Martin de Belleville is a fantastic base for exploring the world's largest ski area; Les Trois Vallees.
For advanced skiers & boarders, we're right on the doorstep of incredible off-piste and itinerary runs. Advanced explorers will enjoy the runs from the summit of Pointe de la Masse at 2804m. Once you have taken in the panoramic views which are regarded by many as the most beautiful in the area, challenge yourself to spot & name some of the summits you can see from here. The La Masse ridge offers endless variety & some legendary runs as there are so many different routes taking you down the mountain – some of our favourite tours are from the top of the Lac Noir chairlift into either the village of St Marcel or Le Chatelard.
To find out the secret powder stashes in the Belleville Valley hire a New Generation guide for the day who will share their insider knowledge based on the conditions on the day.
Those lucky guests that have booked the ski chalet 'Chalet Ann' in Le Châtelard can simply stroll back to their chalet after this very special off-piste run. Whilst others can enjoy a free pick-up from one of the local restaurants and finish the day with a delicious Savoyard meal.
Book your stay in St Martin de Belleville
So if you're an off-piste adventurer, then I can promise you that St Martin de Belleville is definitely one for your bucket list.
As if you need any more reasons to visit, St Martin also has a fabulous selection of luxury ski chalets and apartments to suit all of your individual needs. You can go to our chalet page to view all of our luxury stays. Or if you have a specific request, such as a hot tub sun terrace, then go to our check availability page, and we'll be able to tell you which of our chalets would be best for you.
If you have any further questions about the best off-piste skiing or St Martin de Belleville as a resort itself, then just get in touch. We'd love to have a chat with you.